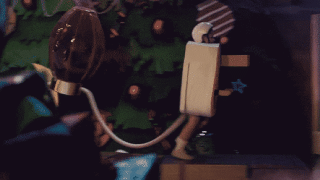 With the volume of retail sales falling by 0.5% in October, and high street shops closing at a rate of 14 a day in the first half of 2018, the much-anticipated Christmas adverts are increasingly important for big brands this year.
The power of Christmas ads is most demonstrated by the John Lewis ads of previous years, with the Moz the Monster ad trending number 1, becoming the most viewed ad online in 2017 and perhaps more importantly for John Lewis, increasing their December sales by 3.6% year on year contributing to John Lewis' first ever billion-pound trading period.
This has been a pattern throughout the years for John Lewis, with their Christmas stuffed penguins selling out at £95, and Buster the Boxer increasing their ad awareness score by 33%.
In 2014, Monty the Penguin was arguably the start of this type of big-budget campaign for John Lewis and they did a large pre-launch, with unbranded Monty appearing on Channel 4 idents, and digital outdoor sites across cities. Mysterious boxes containing penguins were sent to journalists and bloggers. All of which resulted in 29 million online viewers in 2014.
In 2018, John Lewis has done little pre-launch, aside from changing the name of their Oxford store to just 'John' as a hint towards Elton John being the star of the new ad. They have instead been largely reliant on word of mouth and the excitement drawn up over the past 4 years.
However, we will see in the coming weeks if this has negatively impacted them, as Iceland's controversial 'banned' ad has already surpassed Monty's total with 1 million extra online viewers, long before December. Despite their reputation, the John Lewis Christmas ad has arguably not been the most talked about this Christmas. Although the Sainsbury's ad is a personal favourite, Iceland and M&S' ads are the most interesting from a marketing standpoint.
Iceland's advert has already tripled the views it had from its 2017 advert, and there are many people who are now advocates of the store they would never previously consider going to. However, the ad is controversial for reasons beyond its 'banning', with questions being raised as to whether this was their aim all along, as they claimed it had been banned when Clearcast who ruled it was "too political", despite the fact Clearcast have no authority to ban the ad from airing. It is ultimately down to the Advertising Standards Authority and broadcasters, such as Channel 4 and ITV. This claim has led to over 700,000 signatories on a petition, and widespread media attention and celebrity support, with more than 90,000 retweets on Twitter. It is now potentially going to become the most popular Christmas advert ever, so it could prove to be a very successful marketing stunt, with a powerful environmental message underpinning it.
They have extended the reach of their campaign offline with a life-size animatronic orangutan walking around the UK streets, apparently "searching for a new home" after it's home in the rainforest has been destroyed.
Whilst the Iceland ad has caused controversy, and some have criticised Iceland, much like Nike's Colin Kaepernick ad, it may have angered people who would be unlikely to shop there anyway, but it has gained the brand a great number of youth and middle-class advocates who are likely to be more significant in shaping the brands future.
M&S have similarly focused on an online campaign, although unlike Iceland they have not been forced to run their campaign entirely online. After previous campaigns, such as Paddington Bear, having little impact on sales, Nathan Ansell, the retailer's director of marketing for clothing and home has said "The world has moved on [from blockbuster Christmas ads]". M&S are instead focusing on a digital-first and mobile-orientated approach, instead using their TV ad to drive awareness rather than sales. They are using Instagram Shopping, Google Shopping and programmatic display, instead to drive sales.
M&S are using their data on how its customers shop to ensure ads delivered are "relevant and part of the decision-making at the right time", with a focus on walking consumers through the funnel to the sale. They aren't however focusing entirely digitally, with print and out-of-home messages being delivered at the moment consumers start sharing and searching for products online.
M&S' campaign is much more commercial than previous years with 15 times the number of products featured in comparison to last year. In contrast, John Lewis have started selling pianos on the back of their campaign, but it is otherwise largely lacking product placement.
Which campaign will be the most effective however, the heart-warming and traditional John Lewis campaign, Iceland's controversial issue-based campaign or M&S' digital first and data driven approach? Or maybe Sainsbury's will sweep away with the prize? We'll have to wait and see!