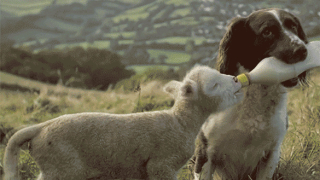 I suppose it's inevitable when you end up working so closely with clients… so this month's blog celebrates five things we shouldn't know – but do. Whilst it may not help them in a pub quiz, I thought it was fascinating, so this month I asked: What is the most obscure piece of knowledge you know from working for a client? And these are the responses!
Alex's Lambing Tips
"From working with the National Forest Adventure Farm, I discovered ewes can only effectively feed 2 lambs, so if they have triplets one will have to be adopted by another ewe, or bottle fed. It's amazing the things you learn on a Facebook Live broadcast."  
Phil's anti-fall advice
"At a recent event we helped organise, Celebrity TV Doctor, Dawn Harper advised the 150-strong audience that people can massively reduce the risk of falls in older age by standing on one leg for 10 seconds (each leg) every day."
Carrie's kinky gymmers
"24-hour gyms aren't just for shift workers and insomniacs. One of our clients provides the CCTV and security solutions that occasionally catches 'over-enthusiastic' members that think they've found somewhere suitable for drunken post-clubbing coitus."
Gail knows Zoonoses
"Zoonoses are diseases that can be transmitted from animals to humans. There are 40 different strains and over 300,000 people in a variety of occupations are at risk – including older people living in residential care. Every day's a school day."  
Paul's Rainbows raisers
"The Rainbows children's hospice needs to raise £6m every year to stay open. That's £684.93 an hour – or £11.42 every minute of every day. They're the East Midlands' only hospice for life-limited children. And you can help them by clicking here."
There'll be more facts and findings on our social feeds over the coming weeks, and I can't wait for my October blog, which will reflect on the launch of our new brand and website for Derby's oldest charity – a project that will be unveiled in September, and one that I'm very proud to have managed.