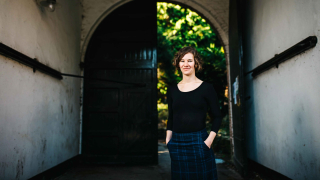 With almost ten years' experience in design, marketing and project management, Gail will be slotting into our design and artwork team to work closely with Laura, Dani, Tom and Selina across a growing range of clients and sectors - from care to education, property and much more.
Gail applied for a role back in the olden days of Fluid. It didn't work out back then, but maybe some things are meant to happen. On joining the team, she said: 
"I loved my previous role, but I just felt ready for a new challenge and a fresh chapter in my career. I'm really excited to get to know the team and the clients we work with… and to keep pushing my design skills too. I can't wait to get settled-in and start making my mark here at Fluid!"
Outside of work, Gail's about as sporty as it gets. Whether it's cycling, scuba diving, snowboarding, yoga or badminton, she loves fitting exercise around her working week.