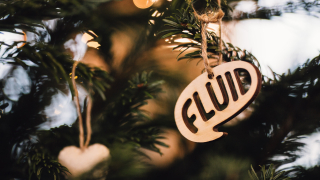 I've fallen into a habit of writing birthday blogs each November. It's quite nice to find the time to reflect on things. And while I know this year has been a sh*tting thunderf#ck for millions of people, some stuff has happened that has made us feel really. Bloody. Proud.
It's our seventeenth birthday. So I wrote seventeen reasons to feel thankful. I then realised four of them were rubbish, but I didn't want to ruin a catchy title.‍
Christmas.
This is the time of year when I'd usually be getting excited about the Fluid Christmas trip. And trying not to accidentally ruin the surprise if Laura or Phil have been silly enough to tell me where we're going. Over the years we've taken the team to Riga, Lisbon, Barcelona, Copenhagen, Basel, and plenty of other amazing places. We can't go this year. And I suddenly feel even more lucky for all the places we've been before.
Clients.
We've always built our business on relationships. The success of our clients has always felt personal. And I guess that might have paid us back in some sense. Because it's felt like we've all stuck together. All helped each other. And all offered a bit of give-and-take when it's needed. It's a real source of pride that we've retained every single partnership, started some new ones, and we're doing everything we can to make sure they all thrive.
Studio.
We've been working from home since March. And I miss our studio... I guess it's one of those things where you don't know what you've got til it's gone. It's the little things - seeing people get excited about an idea. The dogs. The fact Ben could always make nicer coffee than me. Admiring the run-clubbers. Or the Fluid-fitters. And being able to nip down to the wine bar for a cheeky one after work. It'll all be back I'm sure. And we must keep it a bit tidier next time.
Concrete.
It's called 'concrete' but could equally be called 'kindness'. Since March, our Dani has been creating miniature concrete sculptures, writing messages of hope and positivity on them, before hiding them in local parks as surprise gifts to lift the spirits of children and families. Having people like that in the team can just make you happy to be a human being.
Technology.
I used to hate video calls. Hated them. And suddenly they're the lifeblood of our agency. The things that connect our teams, help us work, and help us to strengthen our relationships with clients too.
They've come with new challenges, but that's never a bad thing. One of our values says that 'our comfort zone hates us'. And there's been plenty of people pushing comfort zones. From presenting virtually, hosting workshops and research groups remotely, or even learning how to work as a team when we're apart.
We've also started working with clients that we've never actually met in person. And the relationships and chemistry feels just as strong. Just as exciting. There's the odd international client too. People we'd see once or twice a year are now in our spare bedrooms once or twice a week. And we've never felt closer (hi Marina!).
Awards.
We've never really bothered with awards. Not sure why. But last December we set ourselves a target of entering a few… and being the organised type, Sarah actually did. I'm really glad she took the time, because we've had some amazing wins and amazing recognition... and it seems to keep coming just when we all need a little lift. Kind of like it was meant to be.
Pyjamas.
I love work, but I also love my pyjama bottoms. This year I've been able to combine the two, and it's been a game-changer.
Progress.
Without doubt the best thing about my role is being able to see people progress. Either growing in confidence, or believing in their talent, or becoming more influential. I love it. For several people, the weird concoction of challenges of the past year has triggered the most unbelievable and admirable growth - at both junior and senior levels. I won't mention names, but it's been lovely to see.
Leaping.
In a way, Covid has taught business leaders some really important lessons. And we definitely include ourselves in that. Not just the obvious stuff, like the sudden realisation that working from home is actually ok. But some fundamentals too – like the speed we can all move when we have to. There'll be more leaping ahead… plenty of businesses are re-thinking the entire way they work, maybe fuelled with the confidence of knowing that anything's possible when survival's at stake.
Babies.
After very little breeding for the past god-knows-how-long, two of our most wonderful team members are expecting babies. I'm sure they'll be gracing the odd video call in the years ahead, and we're delighted to have two invaluable additions to our talent pipeline for 2039.
Hunger.
The good kind. There are some people at Fluid that seem healthily immune to fear. Maybe it's naivety, but it means we're trying new things, growing our teams and expanding the specialisms we can offer to clients. And I have to quietly hide the fact that I'm calmly cr*pping myself as we grow and evolve.
Caring.
As an agency that works with the Royal College of Nursing, Nursing and Midwifery Council, and loads of care sector clients, we've always felt close to the amazing work of frontline staff. But even we've got a new-found admiration and awe for the people that dedicate their lives to caring for others. This Christmas we'll be donating a significant amount of money to a charity of our clients' choice… and I really hope that nurses and carers end-up benefiting in some way.
Luck.
Despite the last nine months with very little sleep and an awful lot of stress, we've actually grown this year. Quite a lot. As I write there are 41 people in the team. And although we're proud that we can offer secure careers to so many people, let's be honest… there's a hell of a lot of luck involved. Although I wish we could claim strategic foresight or visionary leadership, the truth is we're in an industry that's well-suited to remote working. There are countless businesses that just haven't had a chance in hell. So we'll be thinking of those guys this Christmas, staying humble and counting our blessings.
-
I think I've run out of things for now. If you've read this far, thank you – but you really should have better things to do. We're under no illusions that next year will be another interesting one, but we'll keep looking after each other, doing work that we all feel proud of, and let's see where the future takes us.
p.s. If you're a client, colleague or partner, thanks for everything – you guys are the best.