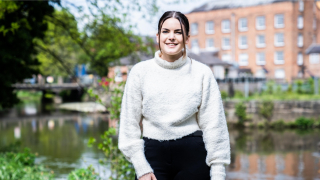 The name and theme for a new indoor market which aims to give an East Midlands town a fresh lease of life have been unveiled as its opening date draws nearer.
Three empty shops are being converted into a market hall in the heart of Kirkby-in-Ashfield.
The scheme, which began in April, is part of Ashfield District Council's investment into the area as part of the government's Towns Fund Accelerated Programme.
As work progresses towards the opening in late July, creative agency Fluid Ideas has revealed the name, branding and theme it has devised for the venue on Lowmoor Road.
It will be known as Moor Market and will be a hub for artisans producing and selling items such as breads, cheeses and ceramics. There will be seven stalls and a café, with outdoor seating.
Moor Market is the latest project undertaken by Fluid Ideas for Ashfield District Council. Previous initiatives have included interior design, graphics and education packs at tourist attractions and visitor centres in the region.
The agency has designed the branding, signage, logos, graphics and layout of the market, alongside social media campaigns to promote it as a destination.
Moor Market's brand identity comprises three colours – crew blue, mustard yellow and soft lime – and feature slogans such as Shop, Eat and Meet, and Moor Choice, Moor Value and Moor Fresh, reflecting the customer experience the venue aims to create.
Phil Harvey, joint managing director at Fluid Ideas, part of a five-strong agency team working on Moor Market, said: "It's very exciting to be involved in a project which will bring people back into the town centre.
"We want the public to feel at home there, to feel that it's a nice place where they can shop, eat and drink, meet others and work from, and to return to again and again.
"The artisan theme will give it character and personality and make it a fun venue to visit. The brand is not just the visual identity, it's also the atmosphere, the experience, the smells, the stories and the memories that emanate from there.

– Phil Harvey, Founder and joint managing partner
"As well as creating a vibe for visitors, we want the traders to develop a sense of camaraderie and to be there for each other."
"We are really excited at the potential for Moor Market. There's scope for it to be a venue for live music and children's parties, pottery and bread-baking classes, and much more besides."
Helping to deliver the project with the Fluid Ideas team is Jasmine Mowbray, a student at Vision West Notts College.
She won a competition at the sixth-form college and has earned the opportunity to work part-time at Fluid Ideas to develop and roll out the Moor Market brand.
"We want the new market to have a name that not only represents Kirkby but also gives the market its own identity. Moor Market does that perfectly, tying in with its location on Lowmoor Road.

– Cllr Matthew Relf, Ashfield Council cabinet member for place, planning & regeneration
"Our aim is for the new market to attract artisan food, creative and craft traders to sit alongside the café offering fresh barista-made coffee. The name and brand reflect our aspirations of bringing a new kind of shopping experience to Kirkby."
Any business interested in becoming part of the new Moor Market should contact the council team at [email protected] or call 01623 551385.
Notes to editors
A CGI of the new Moor Market is attached along with a photograph of Jasmine Mowbray.
Fluid Ideas is a full-service agency whose operations cover branding and campaigns, graphic and website design, computer-generated imagery, 3D animation and video, photography, copywriting, digital marketing, content management and social media.
Its client base spans sectors including healthcare, retirement living, property, professional services, education, finance, leisure and hospitality. The agency is based at Darley Abbey Mills, near Derby.
For more information on this story contact Phil Harvey, joint managing director at Fluid Ideas, via [email protected]