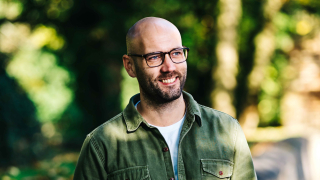 We met Simon in 2014. In Buxton. Over a cup of tea. I think there was cake too. Over the years he's been a client, a referrer, a counsellor (unwittingly) and a mentor. And we're proud to say that he and the team at HURST are soon to be partners too.
A bit about HURST first.
You know that typical perception of an accountancy practice? The one you're probably picturing now? Well you're miles away. Millions.
They're the disruptive type. The kind that does things differently and tries things other people don't. They're the people others watch (at least in their industry). All 83 of them.
They have a great brand message too (guess who created it):
Unlike any other accountant.

And since we helped to launch that brand in 2015 they've been living and breathing that promise. Which is nice for us.
Although they're not your typical accountant, they're also one of the most respected and awarded accountancy firms in the North West. Fierce independence. Infectious passion. Innovative thinking. We've learned a lot from them.
And as part of their mission to redefine the industry and continue their evolution towards being an integrated advisory firm, they're now becoming the first firm of their kind to offer a creative brand and marketing service to clients.
That's where our new partnership comes in. It makes total sense in their sector. It's just no one else has had the creativity or conviction to do it.
The official launch event is March 2019. And whilst it's a thrill to be part of a true industry first, it's even more exciting to be working more closely with a team we admire. And hopefully opening our agency up to other businesses and client partnerships too.
And that 'like-minded' bit is perhaps the most important. Because it's exactly how we love to work: with ambitious organisations that are led by people we like. People who are open to ideas. People who understand the importance of both chemistry and creativity.
We love every fresh challenge. But forget the lure of certain sectors, brands and audiences. Because the truth is - work doesn't feel like work when there's a true relationship at the heart of it.