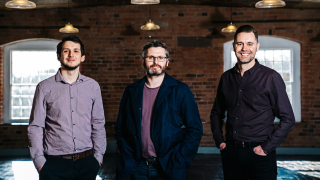 Fluid Ideas has recruited Colin Mitchell as a director as the creative agency expands its digital offering.
‍
Alongside co-directors Paul Nicholson and Andy Wells, he will lead an 11-strong digital team.
Colin is the first external director-level appointment for Fluid Ideas, which is based at Darley Abbey Mills in Derbyshire and has 30 staff in total.
He has joined from digital media company Fish Media, which is also based in Derby. Colin was a co-founder and director of Fish and has more than 20 years' digital and design experience.
Fluid Ideas is a full-service agency whose operations span branding and campaigns, graphic and website design, computer-generated imagery, 3D animation and video, photography, copywriting, digital marketing, content management and social media.
Its client base includes companies involved in sectors including healthcare, retirement living, property, professional services, education, leisure and hospitality.
The agency's digital team specialises in the bespoke design and development of websites for businesses and brands, as well as measuring and optimising clients' websites on a retained basis.
Colin's role will involve overseeing Fluid's digital strategy as the agency looks to develop its offering and pursue new opportunities.
Managing director Phil Harvey said: "The influence of the digital world on our clients and their customers is growing.
"We have seen the need to invest in this new role to further enhance our customer service and drive our digital innovation and strategy.
"Colin has a tremendous track record of working with clients to get the most out of projects and really add value to their online presence.
"We feel his experience and entrepreneurial mind-set make him the ideal addition to our senior team.
"Colin, Paul and Andy have distinct and complementary skillsets and together they represent a powerful combination as we drive forward our digital offering."
Colin said: "I'm hugely excited about the opportunity and the potential for what we can achieve for our clients.
"Having this discipline available in-house is key to being able to offer our clients the best solutions and bring new products to market.
"I see great potential within the team at Fluid, which has done an amazing job in growing the digital offering organically to date, and I'm hoping to contribute to take the business to even higher levels."