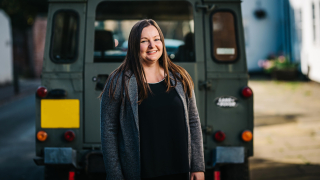 We've all done it. Stood in front of the mirror in our favourite jeans and thought 'does my bum look big in this?' and then proceeded to choose another pair. But how often do you look at your business's brand in the same discerning way?
Self-awareness is a very good thing. What used to be a great fit five years ago might not accentuate your best features today. And I'm not talking about jeans anymore.
Someone clever once said if you're standing still you're actually going backwards. And that's a very interesting thought. Businesses that don't evolve do get left behind. Just ask Blockbuster, which got buried under the likes of Amazon and Netflix's dust.
Or Primark. The company was outwitted by the first Covid-19 lockdown when its stores were forced to close. Primark's well-known reluctance to retail online via its own e-commerce store meant the company couldn't shift its focus to online sales like many of its competitors did.
We know the problem is always bigger than a brand itself - your product(s) and strategies need to be rock solid. And then there's your operations, your workforce, your plans for growth - all of these things and more that make your business tick need to be in very good health for continued success. But your brand is the often overlooked face of all that.
Your brand is the culmination of your vision and hard work, and a good one will communicate neatly and effectively to your audiences in a way that attracts and retains their interest and custom.
So if you are actively evolving, you'll probably find your brand doesn't accentuate your business in the way it once did. And that's really ok - it's a sign that you've been doing something right. It's only a problem if you don't act on it.
Take Carlsberg for example. They actively used the messaging 'probably the best beer in the world' for over 40 years. And then the craft beer revolution came, and fiery independents entered the market place and disrupted a stagnant drinks market. So last year, they decided to poke fun at themselves; Carlsberg conceded that their beer is probably not the best in the world in a high profile campaign. This clever brand messaging was their way of communicating the changes to their product and their ethos, and took steps to guarantee their future in an extremely competitive industry. 
Some businesses will wait until their brand and products stops working before they do anything about it. And that's potentially very damaging. Just ask those Covid-hit businesses. The smart business owners of the world have foresight, they have vision. And as they plan the evolution of their business, they see the importance to plan for the evolution of their brand. 
An invigorating new brand strategy, a refreshed brand voice or a clever brand campaign can work wonders. It doesn't always mean a massive overhaul, and evolution can be king like it was for Carlsberg. The possibilities are unlimited, and can dovetail with your business strategy and future vision. 
A brand health check is always a good starting point if you suspect your business has been wearing the same old metaphorical Levi's for too long now. It's a useful way to reflect on and celebrate your past, and ignite your future with fresh ideas that bring out your business's best features with a brand that is there on the front-line every day fighting your corner. 
Get in touch with Phil or Ed if you'd like to chat about your brand.