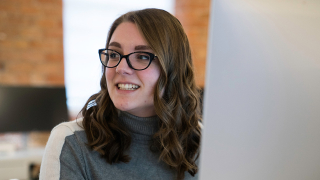 When I joined Fluid, I knew there'd be new skills I'd learn. I was joining a much bigger agency with more teams and new disciplines. It was one of the things I was most excited about. And although I have learnt a lot about the industry during my time here, I've also learnt a lot about our clients' industries.
It's led to me becoming a bit of a know-it-all outside of work, blurting out little nuggets of information here and there that I've picked up along the way. But knowing the industry is a huge part of having a good client relationship and knowing their target audience.
A great example is my relatively new knowledge of financial terms and bank jargon that I've been boring my friends with since working with The Cambridge Building Society. At first their briefs were full of terrifying acronyms and confusing numbers, but over the last few months I've picked up (just) enough to understand the context and target audience thanks to their amazing marketing team.
It's got to the point where a few of us in the office are keeping up with announcements from the Bank of England on changes to the base rate – something I never thought I'd be interested in!
But it's not just finance that I've become an 'expert' in. My abundance of knowledge on the care sector is another thing I didn't foresee before joining Fluid. Knowledge on different care types, options and audiences when working for Barchester Healthcare and Inspired Villages has enabled me to grasp a deeper understanding about these clients and what they need from us.
Working on projects with the University of Nottingham opens up a myriad of opportunities for me to feel a bit brainless, there's definitely been some nodding along I'm guilty of. But as you work on projects, and see the information in context, it becomes a lot easier to take it all in; resulting in some understanding of new technologies in green transport and futuristic business enterprises that I surely didn't have before.
So, whether it's financial jargon, care minutia, property development lingo or university slang, I'd definitely say I've learnt a lot during my time at Fluid. I'm excited to see what we all learn next!