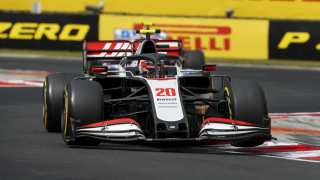 Creative agency Fluid Ideas has helped Formula One motor racing outfit Haas F1 Team to rev up its offering to fans and commercial partners with a new-look website.
The revamp has seen a host of features introduced for the 2020 World Championship, which began last month in Austria.
The World Championship comes to Silverstone this weekend for the British Grand Prix, followed by a special race at the same circuit on Sunday, August 9 to mark the 70th anniversary of the first Formula One season.
The new-look website enables fans to follow the Haas F1 Team in greater detail throughout the season, with World Championship fixtures and rankings, team profiles and a 'race mode' featuring updates, reports and photos from each Grand Prix as it happens.
A Haas+ section has been introduced. This is an exclusive online area where fans can register for VIP content, prizes and giveaways.
The website also features access to the Haas F1 Team's online store, a careers hub spotlighting job vacancies, and greater interaction with commercial partners to help them leverage opportunities.
Fluid Ideas' digital director Paul Nicholson led the project for the Derbyshire-based agency.
He said: "This was an extremely exciting initiative for our team to work on and provided the ideal platform for us to showcase our credentials by creating a website that will help to raise the profile and transform the digital presence of a Formula One team with ambitions to challenge in one of the world's most popular sports.
"The aim has been to help Haas F1 Team to build its online audience through a ground-breaking website which is fun to browse, maximises fan engagement, supports commercial activity and has an ultra-fast load time.
"We're very pleased with the outcome. The website has been designed to be the hub for all digital communications between Haas F1 Team and its fans across the globe.
"We've already seen a significant number of people sign up to the Haas+ members' area and there is much more to come for them over the remainder of the 2020 Formula One season."
Haas F1 Team, founded by American industrialist Gene Haas, debuted in 2016. It has its European headquarters in Banbury, Oxfordshire.
Chief information officer Gary Foote said: "One of the key things was partnering with an agency which understood the unique requirements of our company and our sport.
"Of course, the website had to look great while also supporting our fans, team partners and our brand. Fluid Ideas quickly understood the challenge and has delivered a fantastic website and content hub which fulfils our objectives and gives us a solid platform upon which to build."
Take a look at the website here.
Photo credit: LAT Photo.