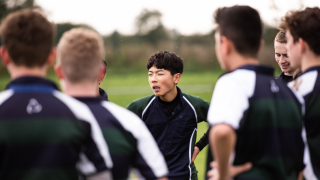 For many young people, a huge decision they have to make is whether to go to university or jump straight into work. I chose university. I just wasn't ready for a job – or at least I didn't feel like I was. So, university was my stepping stone.
I've always been drawn into photography and more recently, commercial photography. I have been trying to pursue this interest ever since I had the chance to choose my own subjects at GCSE, so I knew it was a passion that I wanted to take seriously. I moved on to do 2 years of photography at college and then a further 3 years at university.
I was happy with my decision to go to university, but I was eager to take a step into the real world of the creative industry. Luckily I got my chance with Fluid. I have now been at Fluid for around five months and it is clear to see that the changeover between university and work has been eye-opening but exciting. Here are a few things I've learned so far…
1. It's not as scary as you think.
I was very nervous to start at Fluid, I began thinking about my first impressions, what work to show in my portfolio and how I should present myself. I spent longer worrying about all these factors more than I care to admit. However, at the end of the day, it's you as a person that'll make the biggest impact, it's important that you are yourself and show your personality. Everyone wants you to do well and you're guaranteed to have all the support you need around you so there is absolutely no need to worry, just enjoy the experience!
2. You can't hide in a studio
‍When at university, I always found myself gravitating towards studio work where I was comfortable and did not have to put myself out there very much, I created my own bubble – it was nice.
However, starting with Fluid opened my eyes to how a business works. I quickly learnt that on a shoot, you represent the company, so it is important to consider how you represent yourself. My client communication skills are improving rapidly as I'm creating work for clients on a day-to-day basis and I have come to really enjoy it. It is rewarding to hear the clients give positive feedback on your work as well as you as a person.
3. Channel your inner chameleon
‍This will make sense, let me explain. Chameleons change their colours to suit their surroundings and it's no different when it comes to working with clients.
I had my own style of photography at university and it became my comfort zone. However, I quickly realised that this was something I could not continue when I started at Fluid. We work with many different clients daily, each with a different look and feel to their brand, meaning that I needed to regularly change my ways when it came to a photoshoot or editing.
Despite this being quite a challenge to start with, I have enjoyed opening myself up to new techniques and it has been interesting and enjoyable to see how I have progressed and dealt with this new approach. I now feel comfortable and confident in myself to be able to produce work that I know our clients will be happy with.
4. One-trick pony no longer
‍I started at Fluid with my knowledge of photography and that was about it. It is safe to say that I could now tell you about recording videos, editing videos, editing software (that I didn't even know existed) and so much more.
Opportunities have been thrown at me left, right and centre since starting Fluid and I have benefited from each and every single one of them. Everyone here is eager to make sure you are always learning on the job and are exposed to new experiences and talent as much as possible.
5. It's a learning process
I found that I was putting pressure on myself from the moment I started to make sure I was producing perfect work. Note to self: don't.
It's not a test. In the first few weeks if I was stuck or confused, I pushed myself to speak to people about it and I learnt incredible amounts during this time. Although I was nervous about asking for help to start with, everyone was understanding since they have been in the same position as myself at some point. Not only this, but it was a great way to get to know the people I was working with.
So far, my experience as a photographer at Fluid has been incredible and I look forward to all the other opportunities that are coming my way. I've enclosed some of my favourite shots from the past five months – I hope you like them!