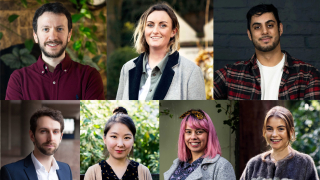 Staff numbers at creative agency Fluid Ideas have topped 40 following its latest recruitment drive to meet growing demand.
Seven people have joined the Derbyshire agency in the past few months, taking overall staff numbers to a record high of 42.
The latest appointments mean its team has doubled in size in the past three years – and the agency is still recruiting for more posts.
Joint managing director Ed Bowler said new roles have been created to meet demand from new and existing clients.
Fluid Ideas, which began trading in 2004, is a full-service agency whose operations cover branding and campaigns, graphic and website design, computer-generated imagery, 3D animation and video, photography, copywriting, digital marketing, content management and social media.
Its client base spans sectors including healthcare, retirement living, property, professional services, education, finance, leisure and hospitality. The agency is based at Darley Abbey Mills, near Derby.
Fluid Ideas' design and artwork team has been strengthened by the arrival of graphic designer and art worker Sammi Creighton. She has 10 years' experience in the field, including working at Aston Villa FC as a graphic designer and design manager.
Qasim Ali and Hailey Kim have joined the image and motion team. Qasim is a CGI artist who specialises in architectural visualisation. Hailey is a videographer who makes short films in her spare time, some of which have been screened at movie festivals.
Holly Glasby and Poppy Marello have been appointed to Fluid Ideas' search and social team. Holly is a social media specialist, a copywriter and designer. Poppy is a digital marketer and social media manager.
Fluid Ideas has also bolstered its web and systems team with the arrival of back-end web developer Ben Hodge and front-end specialist Gianluca Cerniglia.
Ed said: "We are really proud and fortunate to be in a position to offer careers to people in these challenging times.
"This has been made possible because our relationships with existing clients continue to strengthen and grow, while at the same time we have attracted new clients.

– Ed Bowler, joint managing director at Fluid
"We're passionate about giving our team the freedom and confidence to fulfil their potential, and build rewarding and enjoyable careers.
"Investing in the team by recruiting dedicated and highly-skilled professionals means we are able to provide an even more creative, broad and proactive service to clients, and this is reflected in our recent growth."
Ed added: "There is no doubt that Covid-19 has accelerated demand for our digital offering, which is why we have recruited social media experts and web developers.
"Clients are placing increasing emphasis on how their brands live and perform in the digital world, with a focus on speed, measurability and customer targeting. Alongside this, the pandemic has sparked a major shift to e-commerce.
"Strengthening our web and systems and search and social teams means we're able to respond to these changing needs."
‍