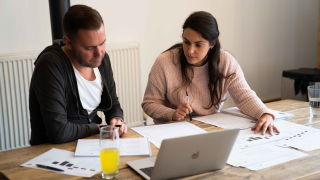 We want every website we create to deliver outstanding results for our clients. But we cannot do this if we do not understand who will be using the website and what they want to achieve, or expect to see, when they visit. This is why we begin every website project with the meticulous planning of user experience (UX) and audience personas.
What does UX planning involve?
UX planning involves thinking about the structure of a website and how users will navigate themselves to find the information they are looking for. It also takes into consideration the steps taken to help users complete website call-to-action goals. In order to create successful information architecture, we need to consider the audience that will be using the website and identify their goals, needs and frustrations. Once we have established a list of possible website users, we can create audience personas to match.
What are audience personas?
An audience persona is a representation of a unique audience group who share common goals, frustrations and needs. These audience persona types reflect the variety of visitors that a website attracts. Each audience persona takes the form of a fictional character who has a need to visit a website for a particular set of reasons. Our audience personas each have a back-story that outlines their reasons for interacting with a website.
As a very simplistic example, one of Fluid's key audience personas is an owner in an independent business that could be turning over anything from £5m to £50m. Above all we want them to see that we're experts at what we do, and we want them to feel the passion and commitment shared across our team. So the tone, language and journeys used across this website hopefully achieves just that.
How do they help in UX planning?
Understanding audience persona stories helps shape our communications and user journeys, allowing them to be streamlined and targeted. By doing this, we can ensure that our UX planning addresses the goals and needs of each audience persona and eliminates any of their frustrations for a successful user journey.
Audience personas are also a useful tool for the testing stages of a website project. We can use the audience persona goals as the tasks when testing the usability of the website at both the design prototype and working development stages. Each testing participant can take a persona story and put themselves in that role when performing the testing.
Wider brand use
Using audience personas in your brand guidelines document will help everyone who comes into contact with your brand to understand who they are communicating with. Using audience personas at this level will help to maintain a consistent tone and messaging style for every brand touch point.