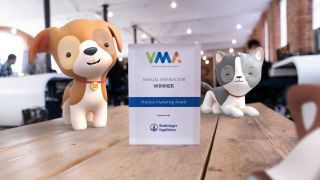 A campaign by Derbyshire veterinary group Scarsdale Vets to highlight the joys and challenges of owning a pet has won a national award.
Scarsdale's 'Pet-specting' campaign won the practice marketing accolade at the Veterinary Marketing Association's annual awards.
The VMA annual awards is the premier event of the veterinary and animal health marketing industry and attracted a record number of entries this year.
More than 300 guests attended the ceremony at the five-star Royal Lancaster London Hotel.
The 'Pet-specting' campaign, which was launched last July, was devised by Scarsdale's in-house marketing team working with Derby-based creative agency Fluid Ideas.
It stars 3D characters Bailey the puppy and Lola the kitten.The playful pair feature in a series of animated scenarios to provide an insight into the joys, challenges and considerations of owning a pet.
The campaign spans numerous digital and traditional marketing channels, including Spotify, YouTube, Facebook and Google advertising, in-store displays, email marketing and local advertising.
It has sparked a significant increase in inquiries and consultation visits from new pet owners to Scarsdale's 11 practices across the East Midlands.
A six-strong team at Fluid Ideas, led by senior creative Shane Jones, has been involved, spanning its creative, design and artwork, image and motion, copywriting and digital marketing departments.
It is the third accolade for a Scarsdale campaign involving Fluid Ideas. Last year, Scarsdale won the practice marketing and direct mail categories for projects for its Pride Veterinary Centre referral hospital in Derby.
Shane said: "We're thrilled that another Scarsdale campaign we have worked on has won an award.
"We developed an engaging and educational integrated campaign involving amusing and informative scenarios with Bailey and Lola, while building a campaign identity that achieved excellent results for our client."

– Shane Jones, creative lead for the 'Pet-specting' campaign
Fluid Ideas and Scarsdale have worked together since 2017 on a variety of integrated marketing campaigns to support and promote various aspects of the group's work.
These have included creating a bespoke recruitment website through to 'Pet-specting'.
The recruitment campaign, called We Are One Team, was highly commended in three categories at this year's awards.
Wendy Furness, a partner at Scarsdale Vets, said: "We are delighted to have won the practice marketing award – especially for the second year in a row. I am extremely proud of everyone involved.
"Our success at this year's awards proves that by working together as a team we can make something outstanding, which is not only shown by this win but also by the other categories in which we were highly commended."