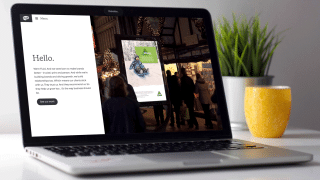 As creatives, our job is to produce effective design and marketing solutions for all of our clients on a daily basis. So launching a new website should be easy for us right? Well, it turns out that creating a website for your own business isn't as easy as it would seem, even for us pros.
Here's some learnings from our own website planning process that may help your business website project run smoothly…
Select a small project team
At Fluid we work in a very collaborative way and welcome ideas from all areas of the business. But this can mean there are a lot of different ideas flying around which isn't always productive when working on a large project with a tight deadline, like a new website. In order to collate everyone's ideas and to communicate them effectively, we created a small dedicated website project group of seven people representing each team from the business who were responsible for the planning and content strategy, design and artworking, and the build and performance of the website. We set weekly project update meetings and this smaller team gave us the ability to make quick decisions and keep the project moving without neglecting the wider business.
Key Advice: Having a small team responsible for the project means that key decisions can be made quickly, keeping your project moving without having to be proofed or signed off at board level at every stage.
Set project milestones
In our first meeting, we set a launch date for the website and put a project plan into place to ensure that we kept to this launch date and met all our milestones. We added the project to our job system, scheduled and logged our time like we would for any of our clients. It was important to have this strict discipline and project plan in place to ensure that all the website team knew when they were expected to have their assets ready – whether that be designs, content, copy or plans for build. Having this tight plan in place enabled us to keep to our deadline. We all know that it can be very easy to let client work come before your own business projects (after all, that's what we are all here to do), but in order to progress and grow with your clients, it is important that your brand and business does too.
Key Advice: Never underestimate the amount of time needed as a client in a large website project. Break tasks down to granular detail and make sure there are clear responsibilities and realistic timeframes against each.
Consider your audience personas
One of the first things we ask our clients is who are you talking to? This is so important because if you don't understand your audience how can you communicate with them effectively? For Fluid, our audience is businesses looking for a full-service creative agency to build a long-lasting relationship and deliver great results. They want to work with someone they can trust and help grow their business. We created personas for our audience, for example, a marketing manager working for a national company looking for creative support. By creating personas, we can ensure that we address the frustrations of our different audiences and meet their needs and wants from a creative partner on our new website. We were also able to use personas in the testing phase to ensure all objectives had been met.
Key Advice: Create personas for your different audience types and focus on their frustrations and needs when looking for the service or products that your business offers. By referring to these points, you can ensure that your website ticks all of the right boxes for them.
Make a considered content plan
We are proud of each and every project that leaves our studio and so it was very difficult to decide which projects to showcase on our website. But this is where our audience personas came in useful and helped us to make a decision. It was our opportunity to include content that would appeal to them and encourage new enquiries from preferred business streams into our project pipeline. We wanted to elaborate on our case studies using inventive video and photography ideas alongside client video testimonials to make these pages more engaging. They are also a great way to highlight our disciplines and demonstrate how we have invested in talent and grown our service offering. A particular area which we wanted to highlight was the outstanding CGI work that our image and motion team have been creating. These are all things that we've been asked to provide when invited to work with new clients and would address a lot of persona requirements when looking for new creative partner.
Key Advice: Base your content around your persona needs to really sell your products or services. If they can find what they are looking for, they will be more likely to consider working with your business.