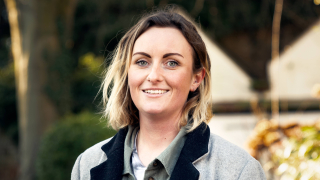 Anyone who knows me will know I'm passionate about equality and belonging and fairness and inclusion. Which is why I'm so proud to be the equality lead for Fluid. There is power in people's differences. There is power in change. And as someone who is part of the LGBT community, visibility is the most powerful thing of all.

It's important for everyone to feel comfortable in any environment they're in, and to feel safe and accepted, and it's even more important that everyone can feel those things within their place of work.
Fluid has always been caring, inclusive and kind - it's in our DNA. It's been written in our story since the beginning. There has never been room for hate, for unkind words, or for inequality. Now we feel it's time to be more vocal and visible with those beliefs. To be honest, maybe we should have done this 19 years ago. But we're all learning. All the time.
Our values have always rung true. We're creative, ambitious, positive, trustworthy, accountable and perhaps most importantly where this subject is concerned, we care.
But as we grow as an agency, we know that there is always room to do more. We need to make sure that anyone who walks through our doors feels like they belong, no matter their race, sexual orientation, faith, gender, or ability.
And ensuring that my colleagues, our clients, and any visitor that walks through our door always feel comfortable and accepted, is important to me too.
So as we rocket towards sixty creatives under one roof, a plethora of incredible clients, and a few furry friends too, I find myself thinking about how we can do more.
Anyone who knows us knows that we're an inclusive place to be. That we celebrate diversity and we don't discriminate. But what about the people who don't know us? The people who are considering a career with Fluid, or clients who might want to begin working with us?
I suppose that's what this is. It's a start. It's the beginning of us being more open about who we are, what we stand for and how much we care. It won't feel like a new start for many of us, or for anyone who already knows us. It's who we've always been.
Maybe it's just a revival.