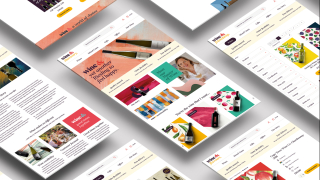 Despite being a new name to the world of e-commerce in the UK, Shopware has been thriving across Europe for some time, counting household names like Philips, Mars and Aston Martin amongst its devotees. And to be honest - if it's good enough for Aston Martin, then it's good enough for us too.
With solutions for small, medium-sized and enterprise-level businesses, Shopware provides a world of creative freedom to our design and development team. Why does that matter? Because it means our clients can benefit from a truly unique and distinctive brand experience in a world of off-the-shelf templates.
Although our love of Drupal and it's handy commerce solution grows stronger by the day, our Shopware specialism has been driven by a huge rise in clients moving towards more dedicated online sales. So we decided it warranted a dedicated ecommerce solution too.
The decision to specialise in Shopware wasn't easy. But it wasn't particularly difficult either. When we compared pros and cons of different platforms, the benefits were clear. More affordable than Magento. More flexible than Shopify. More scalable than WooCommerce. More beneficial for our clients and their customers. Both today and tomorrow.
When it comes to the client-facing interface, Shopware is about as good as it gets. Easy and intuitive, with simple international scaling and the ability for seamless integrations with anything from stock management systems to social commerce campaigns.
Col was clearly drawn to the creative freedom:
"Above all, we wanted a platform that would be exciting to work with, and that would really give us the flexibility we needed to do justice to Fluid's amazing brand and creative work. There are way too many cookie-cutter solutions in the world of web and e-commerce, and choosing Shopware will ensure our clients can stand out in the crowd."
Being a little more technical, Paul had slightly different motivations:
"With Drupal as our core content management system, it was important that we chose a complementary platform… one that'd fit our skillset as well as be relevant, powerful and effective for our clients. Shopware ticked all the boxes. It provides a great fit for our client base, and we're proud to be one of an exclusive collection of UK agency partners."
Despite being a new entrant to the UK market, Shopware boasts a portfolio of more than 100,000 customers across Europe. We're sure this won't be the end of Magento or Shopify - but it'll be the start of something very exciting indeed - for both Fluid and our clients.
If you've got any questions about Shopware or would like to arrange a chat, please get in touch with [email protected]