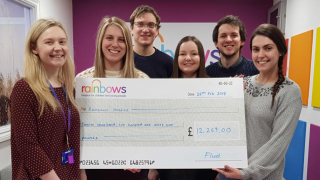 Our fundraising efforts have taken the Fluid team from the icy depths of the River Trent to the freezing heights of an Icelandic Trek - all in the hope that we can make a little difference to the lives of the amazing children and families that rely on the Rainbows Hospice for support.The grand total for all our fundraising efforts stands at £12,269 with another £10,000 of free website development also included as a charitable contribution.
Kate Golding - Head of Organisational Giving at Rainbows - said:
"From ghost walks and cycle rides to quiz nights, you have all been so enthusiastic and energetic in your fundraising, and this has culminated in an amazing total. By donating to Rainbows Hospice, you have supported a family in the toughest and most challenging times of their life, making special memories that they will cherish forever."
It might be 2018, but the donations keep coming. The popularity of ghost walks our show no sign of slowing, and there are still a small handful of team members hoping to add to the already impressive total with their own ideas and events. Just click here to find out more about the Rainbows Children's Hospice. And if you're looking for a worthy charity to support as an organisation or individual, we'd urge you to take the time to visit the team at Rainbows.
 
Take a look at some of the activities the team at Fluid endured:
Tom cycled 100km from Nottingham to Lincoln.
Jon held a summer BBQ and raffled off prizes in a tombola.
Darley Abbey Ghost Walk organised by Laura and Dani – tickets still available!  
Paul arranged a team for the annual Dragon Boat racing at the Nottingham Riverside Festival.