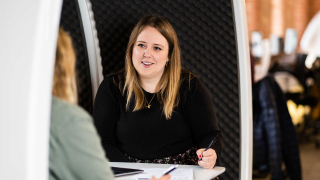 Hi, I'm Sarah and I have a dual role here at Fluid - by day, I head up our Support & Delivery team and, also by day, I'm one of our creative copywriters. Two very different types of roles, offering me lots of variety and the opportunity to get stuck into the things I enjoy doing the most - being super organised and creative writing.
Monday
Each week starts off with a coffee and a catch up with my team to check in on priorities, opportunities and (hopefully not many) challenges for the week ahead. We'll join the Brand & Creative team's weekly catch-up straight after which is where we can brief any new work in, and I'll find out if any new copy briefs are heading my way. As Fluid grows in size we understand more and more how important it is to plan our projects and communicate effectively.
This week is looking like any other - nice and varied! I'll be working on an exciting pitch for a potential new client, completing some brand videos, sorting out invoices, and all manner of things inbetween. I'd say each week is 50/50 planned and unplanned. It's always exciting to see what will appear in my inbox next.
Tuesday
Today begins with a briefing session for the new pitch. I've worked through the project timescales and written the internal brief, but I'm also part of the team I'm briefing, as I'll be the lead copywriter. A great example of the yin and yang of my role! I've already noted down some rough concept ideas so I spend the morning working them up into what we call a 'manifesto' - a few paragraphs that set the tone of voice for a brand or campaign. Afterwards, as part of project managing the pitch I put in regular meetings to check in on progress.
In the afternoon I catch up on everything else - whilst copywriting I do have to keep an eye on my inbox and phone for anything urgent coming through. I work my way through my to-do list. This includes creating a quote for a potential photography project, feeding back my thoughts on a CGI mock-up, proofing a client's supplied employee handbook copy ready for design, and tidying the boardroom ready for a client visit tomorrow. I said it was varied!
Wednesday
An important part of my role is supporting my clients to feel happy, supported, and that their projects are on track. So one of my everyday tasks is to check in on all the different deadlines and make sure we're going to be in a position to share/complete work on time and to a good standard. I stay close to the heads of each team throughout each week. A few different ways in which I keep things organised are to maintain trackers, send update emails, and have weekly or fortnightly calls with my clients to run through their projects and priorities.
This afternoon I sit alongside the guys from the Brand & Creative team on the pitch - after nearly three years I'm still in awe of their creativity and ability to bring to life an idea! My job is to develop the copy alongside the creative, keep a close eye on the brief and objectives as things evolve (this is super important - a great creative must be backed up with a clear strategy), along with offering the occasional cup of coffee and words of encouragement.
Thursday
It's a bit of a rainy day, so what better time to sort out some invoicing. However, I don't just save my more admin-based tasks for a rainy day - it's something I stay close to on a daily basis. We use a system called WorkFlowMax where we can generate quotes, where all of our time is logged (allowing us to compare how we're tracking against quotes and retainers), and where invoices are created. I sometimes need to give a friendly nudge to make sure everyone's time is
up to date, but I mainly check that jobs have been booked in, are running to budget, and I invoice any completed work and retainers that are good to go.
We're sharing a proposal for a digital advertising campaign today. I'll be honest - when I joined Fluid, I had absolutely no idea about paid social advertising and digital display ads. Or what 'Google search' meant aside from what I do when I'm looking for the answer to how old a random celebrity is. So it's been really interesting how digital advertising can support a brand or business. I lend my support to the proposal from a copy and creative perspective, but I also
think it's important to sit in on these meetings to learn more and, of course, be clear on the budget, objectives and timelines to support with project management should we go ahead.
Friday
An interesting task to start Fri-yay off right - adding captions to a set of videos. Quite a straightforward job you may think, but it's really important to ensure that captions work well for good accessibility. I work through them, proofing, cutting down (removing all the 'erms') and tweaking, as well as choosing appropriate line breaks so that they have a nice flow. 
After completing the video captions I have some brochures back with me to check - I'm really close to my client's branding and likes/dislikes, so I often see part of my role being their brand guardian at Fluid, making sure everything that's sent over has had that extra detail taken care of without them having to ask.
We have a quick huddle round the dining table at lunch to check in on the pitch - the three concepts are really coming to life now - we note down some things to work on and I set about working on the copy for some social media post examples. We're presenting next week and things feel in a good place.
With a final update of my trackers and WorkFlowMax, another varied, challenging and fulfilling week completed, it's time to head off to the wine bar, conveniently located right next to the studio. Slightly too conveniently.