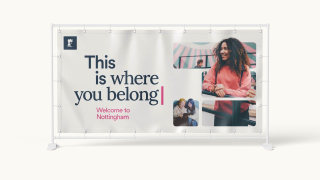 It's been a busy period for our education sector clients, and we've been supporting another of our clients through a welcome campaign. This time, the University of Nottingham came to us looking to refresh the visual identity for its welcome assets for 2023. 
Every autumn, the university welcomes new students from all over the world, and needed an identity which would translate globally, and help them build excitement among the new intake.
Our Brand & Creative team worked closely with the university's welcome team to build a flexible identity that promotes inclusivity and participation, and – ultimately – make the new students feel at home in Nottingham. With an adaptable messaging strategy at the core, we developed a look and feel that could be used across a variety of touch-points as part of the welcome campaign.
We then supported the university with the roll-out of assets, including digital outputs: email banners, web banners and social media assets. We also worked on physical assets such as window graphics and various banner types.
Take a look...