Celebrating
150 years
with the UK's first Students' Union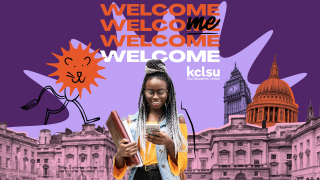 A welcome campaign to remember
King's College London's Students' Union (KCLSU) has forged a path for students since 1873. The very first Students' Union. The first to welcome women. The first NUS president, Sir Ivison Macadam, was a KCLSU alumni. And across those 150 years it has welcomed hundreds of thousands of students to the heart of London for their university experience.
This is a Students' Union that doesn't rest on its laurels – forever evolving and finding ways to support its global community of undergraduates and postgraduates. So, as KCLSU lined up for its 150th year, the marketing team approached Fluid for a Welcome campaign to remember.
Disciplines
UX & digital design
Brand identity
Creative campaigns
Graphic design
Project management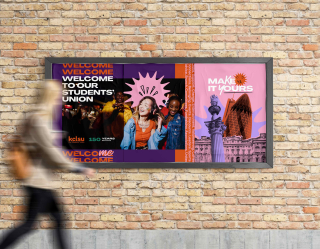 Creating an impression
KCLSU was looking to stand out – to celebrate their 150th year, to capture the attention of new and returning students, and to stand proud against their neighbouring unions. We chose to create a modern twist on a retro feel, with use of contrasting colours and bold imagery that celebrates the diversity of students, the university's stunning location and, of course, KCLSU's iconic mascot, Reggie the lion. Reggie has had many guises over the years, and after looking through the archives, we found a retro sketch to adapt that gave him a fresh look with a nod to the past.
The tagline 'Make it yours' was a rousing call for students to discover and explore everything the union has to offer, from over 200 clubs and societies, to elections, wellbeing advice and a host of events throughout the year.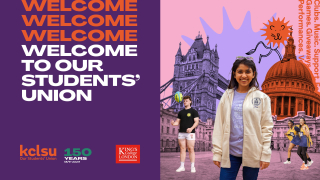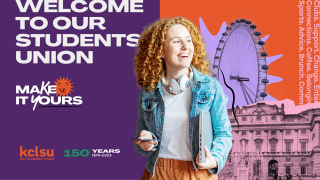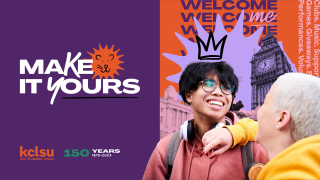 Mixing old with new
To help support a year-long celebration, we updated the KCLSU logo with a 150th anniversary tag, and chose a heritage green that would compliment the welcome campaign creative but also provide an identity for 150 years to live far beyond freshers.
The KCLSU team had dug through their archives and provided us with a wealth of photos from moments across the decades, which we treated with the same colourwash as the main campaign, to tie together the old with the new.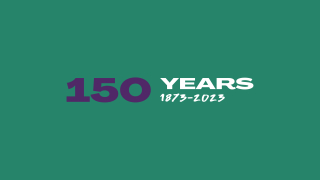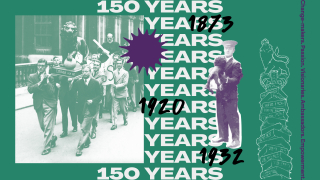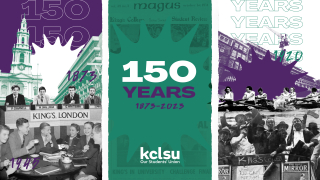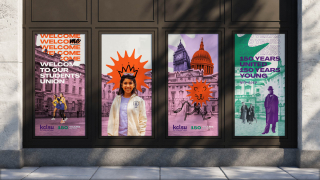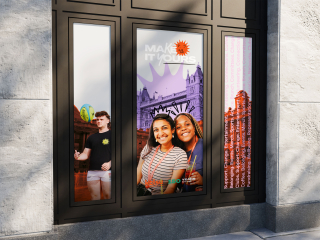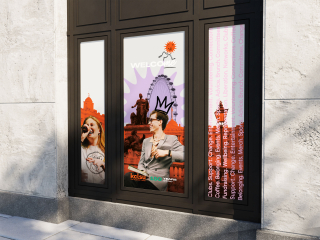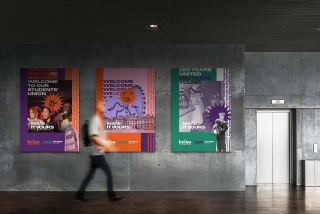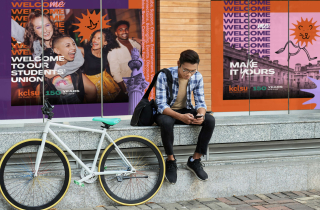 Rolling it out
Once we signed off the campaign creative, we quickly set to work with the deliverables for the welcome period. A key campaign objective was to make the Welcome Fair a sold-out event, and so the design of the welcome website, with free ticket sign-up, played a key part in this.
The campaign was brought to life and kept consistent across all channels, with the roll out including email templates, social content, digital screens, video templates, a set of large window vinyls for the university's main campus on The Strand, and an Instagram lens filter where students could take a selfie with Reggie's mane as their backdrop.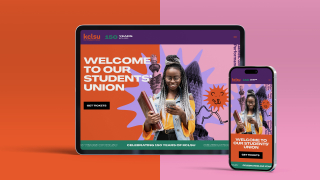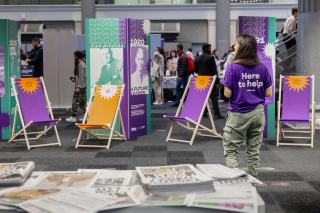 A sold-out fair
On a sunny Thursday in September, with the stunning backdrop of the London skyline on the River Thames, thousands of students lined up at Old Billingsgate to attend KCLSU's Welcome Fair. We'd made sure for the KCLSU brand to be loud and proud throughout the lofty venue, with large hanging banners, wayfinding cubes and signs, a digital map, and activities to support brand engagement, such as a spin-the-wheel game, tote bags and giveaways.
Hundreds of students were asked to leave feedback on leaving the fair, where 69% said they resonated with the campaign tagline of 'Make it yours', and the campaign branding scored an average of 4.1 out of 5.
Welcome fair photos by Nacho Rivera© nacho-rivera.com