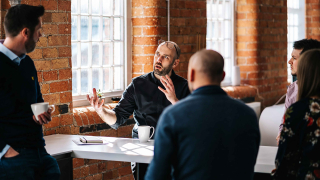 We all know the moment. You're in the pub. You ask the bar man for a coke. "Sorry, it's Pepsi. Is that ok?" For some, it's a dealbreaker. Ask anyone. On the Coca Cola vs Pepsi debate, we all have a favourite. Even if we don't throw a strop and tell the bar man to leave it, we begrudging sip our Pepsi while wishing it was Coca Cola instead.
The same goes for other brands - we all fall somewhere. Do you drive past the closest services on the motorway because it has a Costa, and you'd rather wing it (even though you're bursting for a wee), because you'd rather grab a Starbucks instead? Can't appreciate Blur for the band they are because you pledged your support (and pocket money) to Oasis in the Britpop battle of the 90s? We all have our allegiances.
Whether you're a giant beverage brand, a coffee house phenomenon, a chart botherer or an owner-managed business looking to differentiate your brand in your market - brand loyalty is definitely something worth striving for.
We know it's not easy
Let's be honest. The aforementioned big brands have achieved their brand loyalty over decades. And they've done it with the help of eye-watering budgets. But let's not forget that all brands have to start at the beginning.
We build brands
At Fluid, we understand the art of a great brand, and that's what helps us build them. A brand isn't a logo or a website. It's not a social media account. But a brand can certainly encompass all three.
Whether you are building a brand from the ground up, or need a brand refresh that aligns with your future direction, Fluid can certainly help craft a brand that commands loyalty.
Immersion
What makes a brand usually starts with the stuff you can't see. It's probably not even rooted in the product itself, but more about the company's founding values and mission. What does the company stand for? What does the company aspire to be?
When you understand what makes a company tick and discover its ambitions, then you have the foundations for a brand. And that's why the Fluid team will always immerse ourselves in your business and get to know the people that keep it thriving.
Brands with attitude
No, we're not talking about sassy teenagers with backchat or even a CGI salami running around your telly box. We mean brands that exude personality.
Personality can be expressed in many ways. It can be bold, it can be nuanced. It can be expressed via the tone of voice in your advertising, or the image style that graces the physical and digital pages of your sales literature and website respectively.
It can be how you engage with your customer base, whether that means a big-budget television advert or a conscientiously manned social media account that keeps an open dialogue with your target audiences. Loyalty can be built in many ways, and your approach should always be multi-faceted.
It's in the details
If we break it down further, a brand is all about the details. It's about colour. It's about typography. What does it look like? How does it sound? It's about a solid idea that can adapt and evolve across mediums and time. It's about everything that combines to make your brand distinctive and unique in its own right. And at Fluid, we'll pore over the details. You'll get the tailored approach. Nothing comes out of the box. Everything is considered and crafted, and we'll always, always have our eye on the target audience to ensure that your brand will spark a connection with them.
Adapt and evolve
The world is moving quickly. Sometimes that means your business and brand has to keep up. Being adaptive to your client base or target audience is how you stay relevant. That applies to both how your brand presents itself, as well as how you communicate - is it time to venture into social media? Do you need to abandon stock imagery for a more personalised approach that better represents your audience? Should you be thinking about a website that works harder to drive conversions? That sort of forward thinking is how you cement your details, and in turn helps you stay in the forefront of your audience's minds.
We're not saying be reactionary. We're saying you need to be flexible. And quite often brands aren't. Household brands like Coca Cola or Starbucks truly understand this, and continue to adapt and evolve on a global stage.
It's the same for us at Fluid. We need to make sure our expertise are sharp, our skills are up-to-date, our services are relevant and really we aim to be ahead of the curve, not chasing after it. That gives us the edge over our competitors and it is why people like you might choose people like us to work on your next brand project. It's certainly why our clients stick with us as they adapt and evolve their own brands.
PS. For the record, I prefer Pepsi.