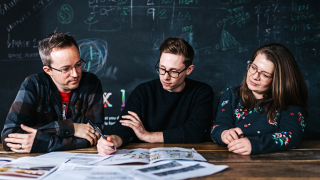 At university, agency is the holy grail. To be controversial, I don't think any budding designer sets out with the goal of working in-house. At education level it's already got a stigma attached to it. And, rightly or wrongly, they ingrain it into you. But there I was, in the wide-world upon graduation, when I was presented with an opportunity to work in-house. So I begrudgingly took it. But guess what? I loved it, despite being programmed not to.
Was it really all gravy?
Yes! You have one brand to love and nurture - and believe you me, this particular brand was trapped somewhere in the early nineties and needed a whole lot of love and nurture thrown in its direction. I was part of a band of designers in a marketing team, and together we focused on redefining that brand for the changing nature of the industry it operated in, and bringing it up to modern standards. We were brand guardians. We lived it. We knew it inside out.
Surely there's a catch?
Ok, I need to let you in on something. All the while our in-house team was going from strength to strength, we relied on external support to truly do our brand justice.
CGI was an imperative part of our marketing materials. In-house the technical team could render out components, or an assembly of them, to decent enough standard to sell ideas to the company head honchos. But when it came to showing these finished products to consumers, we needed the wow factor. And that's why we had CGI artists at the other end of the phone or an email, poised to craft photo realistic images in 3D.
When video content was breaking through as the next big thing, we called in animators, videographers and photographers. Oh, and there was the time when we needed an app. So, of course, we called in the specialists.
So what you're getting at is....?
What I'm trying to say is, as wonderful as it can be to work for one common goal, in-house teams tend to lack the complementary skills that full service agencies are built upon. And that makes perfect sense. Why would you have a team of CGI artists or animators sat around twiddling their thumbs 80% of the time?
As such, you perhaps decide to go to four or five different external suppliers to augment what your in-house team is able to offer in order for your brand to thrive. And that can present real challenges in itself. Here's just two of them...
Marketing and design teams are busy. Really busy.
It doesn't matter if you work in-house or at an agency. The work can be reactionary. The briefs come in last minute. You spin enough of your own plates, before even having to consider which company is writing the copy, who's supplying the CGI visualisations and then what agency is bringing it all together into a super duper video. Managing multiple suppliers can be tricky. Which leads me to...
Brands need a joined up, consistent approach
We've all heard the phrase 'we all need to sing off the same hymn sheet'. It's cringe-y, but in there lies a truth. And when you have six or seven suppliers feeding into marketing activity, it can lead to a management nightmare. And who's got time for that? Quite often it's hard to find a dependable supplier that buys into your values, one that believes in them as much as you do. So to find six of them that 'get it' equally will be tough. And then you have six external teams to manage and ensure they are providing that consistent output without ever compromising your brand continuity and quality.
Let's digress...
Having been that designer who has worried that the agency helping to fill a skills gap could potentially whisk away the entire department's work and leave me unemployed, I really do understand that it can be hard to form a meaningful relationship with external suppliers. But having worked agency side for a number of years, I realise that I had it all wrong. And maybe there's no us vs them at all.
So agencies then...
At Fluid, our only agenda is to produce creative solutions to problems that get our clients the results they want. And we do it with pride and with passion, and we never let something we're not proud of leave the metaphorical studio door.
If that means supporting your in-house team, as a co-operative and supportive extension of it, then we'll live and breathe your brand as if it were our own.
And the best part is, we're full service. So the management nightmares and consistency woes of juggling different suppliers can be a thing of the past. Plus, we can offer that fresh perspective that's hard to see when you are immersed in one brand all the time.
Fluid can be that one, trusted partner that is working to the common goal. The single team that bolts on to your own to deliver a joined up approach across multiple disciplines.
Just ask Barchester, or the University of Derby, or Belvoir or Anchor Hanover.
So while the agency vs in-house debate rages on, we'll be honest with you. We can both be winners.
At Fluid, we pride ourselves on the value we bring to in-house teams of all shapes and sizes, and we've built strong relationships that endure. Because when the goal is common, we'll both succeed.