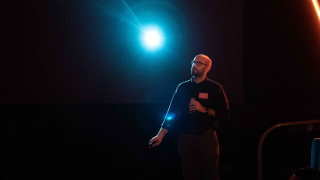 We started working with a big building society. Which means (a) we're all grown up and (b) we're ridiculously lucky - because they're as lovely as they are courageous. And as Phil once (creepily) put it, we can now leave a little bit of Fluid in a new part of the world.
Erm. We started working with an F1 team that we're not allowed to talk about. So I'm obviously not going to tell you how excited we are to be supporting them with their digital experience. And I certainly won't mention how our collective sex appeal has gone through the ceiling.
We met a client called Bullocks who have embraced the fact that they sound like bollocks. Which is good. It all launches this side of 2020 and it's one of those really bold rebrands that makes us very very proud and should welcome the dawn of a new era for their family.
Our oldies are still our besties. We'll never let exciting new relationships affect the success of exciting old ones. And we've got the balance about right - with no lost clients and 73% of new ones coming through referrals in 2019. We're starting our first client happiness survey soon and we want to reach a consistent A* happiness rating. Eek.
We're helping a small family business to world domination. Gradually. 2019 saw us launch a new brand and website as part of the digital transformation of Interpart. They're already working in 70 countries, and are now inflicting their unique blend of Mancunian charm and JCB parts on Miami and the rest of the US.
Tingdene's 50th anniversary was celebrated with a new rebrand and everything that goes with it. The website in particular is a bit of a beauty. They're an ambitious bunch and a team that makes us feel all warm and fuzzy inside.
This one's hot off the press. We've recently won the affections of SDL Property Auctions. The project all kicks off in the New Year. And we cannot wait to help them make some waves in a sector that's ready for reinvention.
December saw us relive one of the great love stories of our time, as we revisited Paris to celebrate the eighth anniversary of our partnership with Marina Kaptein. A brilliant and inspiring person who's been central to some of Fluid's proudest projects. Long may it continue.
Inside these old world heritage walls, we've found a bit of we-time too for once.
We launched a new website for Fluid and we've managed to keep putting new stuff on there. It's done us proud. But we're now rethinking our values and visual voice - so it might change again soon. Watch this space.
We launched our new culture book, which is slightly too sarcastic for external eyes. But it's something we like and it's something we'll update soon. We're also putting some new structure in place which will help us do more work without worrying about standards ever slipping. More to come on that next year.
Colin happened. Our first external director-level appointment and a huge addition to our team. In 2019 he's been joined by Bec, Becky, Steve, Liam, Stu, Glynn, Sarah and Vicky. Good god that's a lot of people. Anyway. They're all lovely and they all feel like Fluid through and through. You'll meet them soon.
We've never had time to enter awards, but fortunately our clients have been doing it for us. Shane collected two VMA Awards with the team at Scarsdale earlier this year, and in 2020 we're determined to (a) build a cabinet, and then (b) stick some actual trophies in there.
I think that's it for this particular blog. Special thanks to our friends at HURST, in particular Simon, who continues to offer a calm and trusted voice whenever our vision gets a bit blurry.
Last but not least. I guess it'd be rude not to say Happy Christmas and to tell you how much we appreciate you being part of Fluid's journey. It's been another record year. So if you're a client there's a very alcoholic 'thank you' coming your way in time for the holiday.