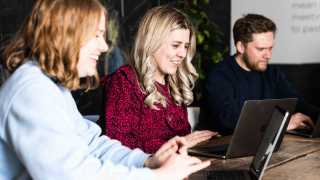 When developing a content strategy, and later a content calendar, it's often easy and many people's first step to look at the various awareness days and national holidays and plug in their content accordingly. While this can be a quick and easy way to fill up your content, it isn't always good for your business.
Joining trends mindlessly leads to meaningless content which, on a smaller scale, may alienate your audience by appearing to be virtue signalling, but it could also be extremely harmful, diminish trust, credibility and could become a PR nightmare.
As social media specialists, here are our dos and don'ts…
Do show expertise
When considering getting involved in a trending topic or awareness day, consider what a safe zone is for your brand. 
For example, if you're a healthcare or wellness company, tapping into Men's Health Week will likely be a good fit. However, if you're a business coach you should maybe steer clear. Searching for industry specific days and staying in your lane is a great starting point.
Don't bandwagon
With national awareness days like International Women's Day, it's often tempting to get involved. After all, your brand likes and celebrates women, right? 
However, we'd recommend treading carefully. Consumers are becoming increasingly wise to your efforts and unless you've got strong backing (meaning you're actively doing something in your business to improve the working environment for women) then we'd recommend steering clear.
For example, on International Women's Day earlier this year, many brands and organisations were called out by a Twitter bot for the gender pay gap in their business. This proved to be extremely embarrassing for each of them being called out and a timely reminder that you should avoid bandwagon-ing on Twitter, otherwise you'll appear completely disingenuous (which is the death of good social media!) 
Do showcase your values
When creating your brand, you'll likely have created a set of brand values or a brand personality to go with it. Treat these with reverence and use them as your guide for navigating tricky opportunities. If you work hard for diversity and equal opportunities, this gives you license to join conversations on sensitive issues like Black Lives Matter. 
Equally, for smaller businesses or brands with a very public-facing CEO, you can bring to life the personality of the people leading your business and talk around topics which mean something to them. This should only be where it makes sense and when you can show how the business / brand also supports that cause.
Don't alienate your audience
Knowing who you're talking to is everything. There's no point harping on about National Cheese Day if your audience is following you for financial advice. Whenever you're posting to your social media, ask yourself "is this valuable to my audience" – if the answer is no, you know what to do!
Here at Fluid, we have these conversations daily and keep them close in mind when planning organic and paid-for content. If you're in charge of social media for your business, remember that you're the brand guardian and when working with business decision-makers, sometimes it comes down to that gut feeling that you just can't ignore. If it feels like the right thing to do, it probably is. If something is too hard or doesn't ring true – it's not right for you.