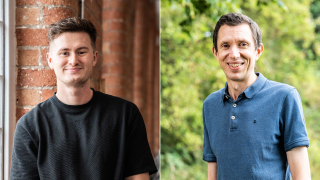 Prioritising mental health to foster a happy workplace is not a new concept. Nevertheless, it can sometimes be mimicked, insincerely addressed, or worse – overlooked altogether.
At Fluid, we understand the impact of a happy and healthy team. And together, we are learning and adapting to create an environment that allows our team to thrive.
Here, Will explains the Fluid approach to mental health, and Matt tackles mindfulness in the workplace…
The Fluid approach to wellbeing
At Fluid, we aim to enhance our team's wellbeing through a variety of initiatives. While not every approach may resonate with everyone, we believe in offering diverse ways for the team to engage. Here are some of the ways we support our team here in the mills and beyond…
Lunch & Learn 
Our Lunch & Learn sessions give employees the opportunity to share their knowledge on something they're passionate about, or something they feel everyone in the team should know – things like efficiency processes, neurodiversity in the workplace and mindfulness. The sessions involve a chat around the kitchen table at (you guessed it) – lunch time. We usually host a couple each month, and it gives Fluiders a light-hearted way to get involved in agency life, while learning new things over a sandwich. 
Early finish Fridays
Our newest wellbeing initiative is early finish Fridays. It's as simple as it sounds – on a Friday, we finish at 3pm. And I must say, it's bloomin' brilliant. It gives the team an extra few hours on a Friday to chill and have some personal time – for me, it's a chance to get in the pub early doors! You can find out more here.
Dogs in the studio
When you're in the Fluid studio, you're likely to see some of our four-legged friends prancing around. Our precious pups are excellent for wellbeing – it's well known that interacting with animals can reduce the stress-hormone, cortisol – and we think there's not much a play around with a pooch can't sort. 
Standing desks and quiet spaces
We aim to make our studio as comfortable as possible for every team member. Some of the improvements we've made this year include a space for standing desks to aid physical wellbeing, and bookable quiet spaces that allow the team to zone into the task at hand without the hustle and bustle of the studio breaking your concentration. We're continually investing in our studio to make it a place for our team to thrive in and be inspired by.
Mental health and equality champions
We all know how important it is to talk about mental health and also the importance of equality, diversion and inclusivity (EDI) in the workplace. For this reason, we have a team of 'champions' in the workplace, that have received mental health training and EDI training. This has supported our champions to spot common signs of poor mental health in the workplace, and given them first aid techniques that could help those in need. The EDI training has empowered us to continue our progress in creating an equal, inclusive and diverse workplace. 
Bupa healthcare and Fluid Fit
Alongside mental health, we're all about looking after the physical health of our people, too. For this reason, we offer Bupa healthcare to the team. This gives the Fluid team instant access to online GP appointments and rapid referrals if they need to be seen. 
Alongside this, all Fluiders get a free gym membership to the gym below our studio, and we offer a HIIT class every Wednesday morning. We call it Fluid Fit and it's horrible. Means I can have that slice of cake at lunch time, though. 
We are all aware that work can become quite stressful at times, which is why it's crucial to have resources in place to alleviate it. So we have various other initiatives to support wellbeing in the workplace, including a suggestion box, complimentary fruit and proper coffee, regular social events, and occasional movie or speed pool nights. These initiatives collectively contribute to enhancing the overall wellbeing of our team, and I firmly believe it makes a genuine impact. They foster a strong sense of unity, and it provides opportunities for us all to relax, build stronger relationships and ultimately build a stronger team.
Since I joined Fluid over a year ago, it's evident that wellbeing is a genuine priority. This has personally impacted my productivity and overall happiness at work. In this nurturing environment, I've become more efficient and enthusiastic, and feel valued and supported. The positive atmosphere and camaraderie among colleagues is driven by our shared commitment to wellbeing, and it has made me feel comfortable and happy here at Fluid.

Matt's mindfulness
You might have heard of mindfulness, you might already be practicing it, or maybe you're just a little curious about what this so-called mindfulness is and what benefits it can bring to you. 
Let's begin with that very question: "What is mindfulness?" 
Well, mindfulness is a form of meditation that originated in Hindu and Buddhist traditions. The concept has been practiced for thousands of years. 
You may be left wondering what it has to do with a creative agency based in Derby (or any other business for that matter)? Well, mindfulness is a mental practice that involves being fully present and attentive, a skill that is incredibly useful in a fast-paced agency like Fluid. 
As many of us will have experienced, the modern workplace is ever changing. The need to adapt quickly to new technology, and ever-increasing demands on multitasking and tight deadlines all feel like vital skills to achieving the results we all desire. 
With all this going on, can we really adopt a mindfulness approach to work and give our full attention to what we are working on in the present? Well, I believe we can, and we can achieve this by tailoring the environment that we work in to give us the best opportunity to be more mindful.
Let's take a look at workload and deadlines…
Often we are faced with the dilemma – what job needs prioritising first? And when we do eventually decide to get going on a particular job, then without fail another job will land in our inbox that appears more pressing, distracting our focus and attention from what we were working on. So, what can we do in this instance to be mindful and manage our workload in a more structured way? 
One useful option would be to use a workload management program like Asana. Why let an incoming job, potentially an enjoyable one, sit in our inbox, constantly nagging at the back of our minds for attention. Instead, copy it to Asana, label it up, attach the client brief, give it a realistic deadline and allow everyone in the team to see it. Not only will this free your mind up to focus your attention on what you're currently working on, but it also will help team leaders to distribute jobs evenly, alleviating workload pressures on the team as a whole.
Let's take a look at meetings…
The same principle can be applied to other aspects in the workplace, for example, what could you change to make meetings more mindful? 
First, we need to ensure that everyone around the table needs to be there. Being dragged into meetings that are not necessarily relevant to an individual can be distracting, and have an impact on efficiency and effectiveness.
But once the right guest list is assembled, we can be mindful to make it a welcoming and productive environment: Agendas communicated in advance can boost efficiency. A short break before a meeting – even if it's just five minutes – can significantly improve focus. Jotting down a simple list of what you'd like to contribute during the meeting can help free your mind up, enhancing your ability to concentrate and listen to others. Refreshments at in-person meetings can give people a mental boost. Sometimes the little things can make a big difference.
Let's take a look at where and how we work…
Another way we can achieve a more mindful approach to our working day is by choosing the best working environment for the particular project we are focusing on. Gone are the days where we have to be rooted to the same spot, tied to a desktop computer. We now have the luxury and flexibility to take our laptops anywhere and everywhere, so we can use this freedom to our advantage. 
Consider the project you're about to begin, and ask yourself the question: Would it be beneficial to be working in a group, bouncing ideas about, absorbing advice and gaining support from fellow team members? Or does the project require a more solitary approach (whether that's working from home or finding a quiet space in the studio)? With collaboration tools like Teams, we can now quickly and efficiently be connected to others, so our working environment is unlimited, allowing us to operate in a more productive and mindful manner.
Have a go…
Curious to give mindfulness a try? Go for it! Have a think, make a plan and start a healthy routine that will ultimately bring greater enjoyment and satisfaction in all that you do and strive to achieve in the workplace – it makes a difference, I promise!